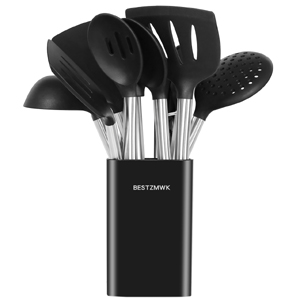 Kitchen Utensil Set-Silicone Cooking Utensils-33 Kitchen
Kitchen Utensil Set-Silicone Cooking Utensils-33 Kitchen Gadgets & Spoons for Nonstick Cookware-Silicone and Stainless Steel Spatula Set-Best Kitchen Tools.
About this item
33 COOKING UTENSILS – Utensil Set includes everything you need to cook that perfect dish, including Slotted Spatula, Slotted Spoon, Flexible Spatula, Slotted Turner, Solid Turner, Pasta Server, Solid Spoon, Kitchen Tongs, Draining Spoon, Whisk, Deep Soup Ladle, Spatulas, Brush, Peeler, Pizza Cutter, Bottle Opener, Potato, Pusher, Ice-cream spoon, Can opener, Grater, Scissors, measuring cups and spoons set, Small Brush, Small spatula, Spatula, Holder
LASTS A LIFETIME: The most durable utensils on the market feature thick handles designed using top-grade 304 stainless steel and utensil heads made of durable silicone. Even with daily use, they're designed to not bend like plastic utensils, not break like wooden kitchen tools, and not rust like other metallic utensils.
PROTECT YOUR EXPENSIVE PANS: The non-scratch silicone heads pair great with your expensive non-stick pans, pots, and bakeware, ensuring that the cookware surface is not scratched or dented; they're the perfect tools to extend the life of all your kitchen pans.
NO PLASTIC WHATSOEVER: There is no trace of plastic in the entire construction. It's also usable for an effortless clean, with the elegant design sprucing up your kitchen. This kitchen utensil set is to be completely free of BPA and latex.
EASY TO CLEAN & STORE: Our heat-resistant utensils are fast, simple, and easy to clean. Toss these in the dishwasher to wash off any grease or oil in seconds, and feature small holes on the handles to let you hang these to store them without taking much space.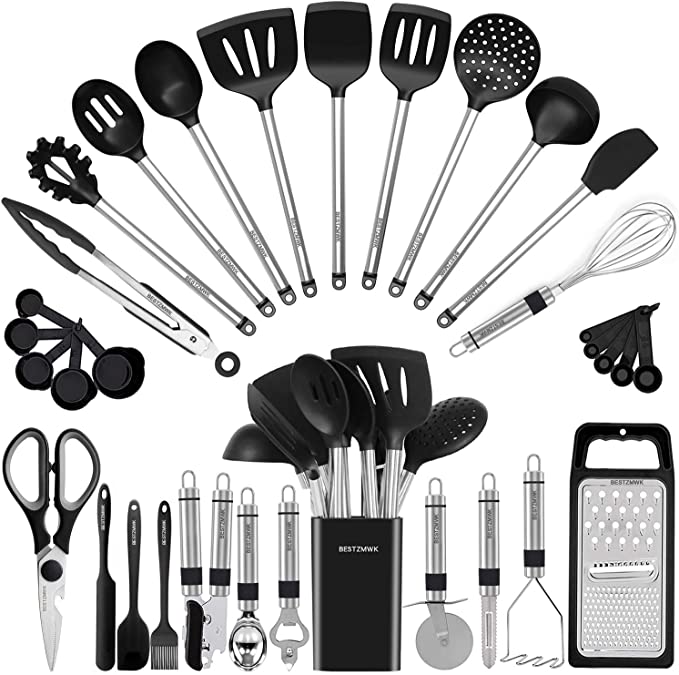 Product Description

We only provide high-quality, most beautiful products and the best service to you! This 33-piece silicone kitchen utensil set is High Quality, Heat Resistant, and Nonstick Cookware.BPA free.
This 33-piece bright set of cooking utensils is easy to use and easier to clean.
If you are not completely satisfied with your purchase, We can offer a full refund or replacement, no questions asked.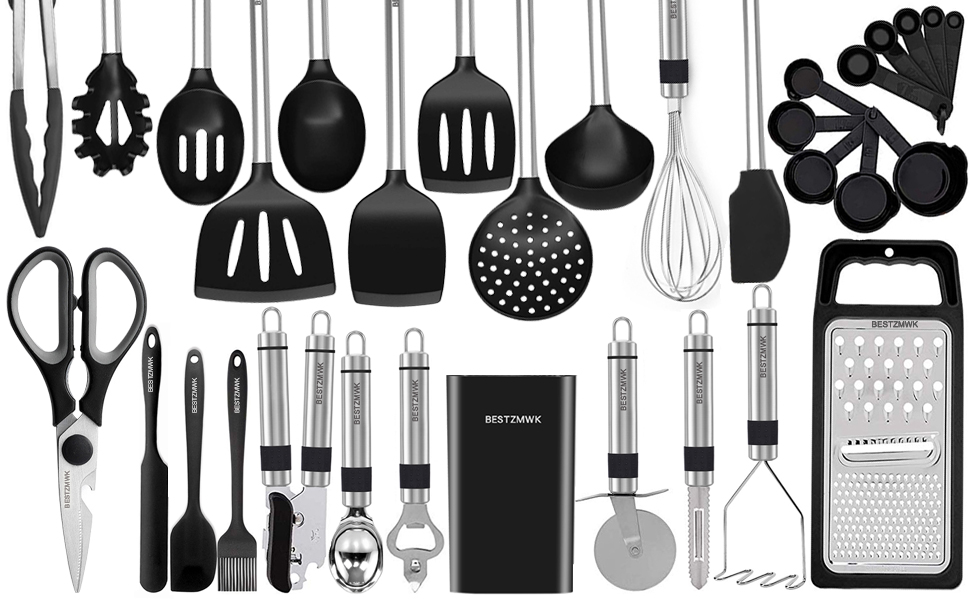 The Superior Silicone Utensils Set's Features:
.Non-Stick
.Ergonomic Design
.BPA free
.HYGIENIC Cooking Tools!
.Heat Resistant (Up To 480℉)
.Dishwasher Safe and Easy to Clean
.Beautiful Colors
.High Quality and Durable
Material: -Pure Silicone -Food Grade Silicone; -Products Fully Compliance with BPA-free Instructions: -Heat Resistant 480℉ -Do Not Direct Fire Flame on the Utensil -Do Not Use Sharp Object to the Silicone Head -Keep Dry After Washing -The Sudden Change of Temperature Must Not Exceed 480oF While Being Used.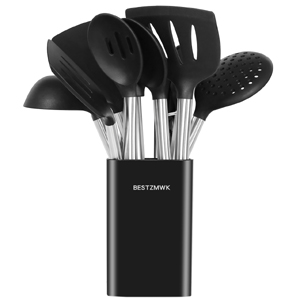 You will get
1xSlotted Spatula ,1xSlotted Spoon,1xFlexible Spatula,1xSlotted Turner,1x Solid Turner,1x Pasta Server,1xSolid Spoon,1x Kitchen Tongs, 1xDraining Spoon, 1xWhisk ,1xDeep Soup Ladle,1xSpatulas,1xBrush,1xPeeler,1xPizza Cutter,1xBottle Opener,1xPotato,1xPusher,Ice-cream spoon,1xCan opener,1xGrater,Scissors,10xmeasuring cups and spoons set,1xSmall Brush,1xSmall spatula,1xSpatula,1xHolder.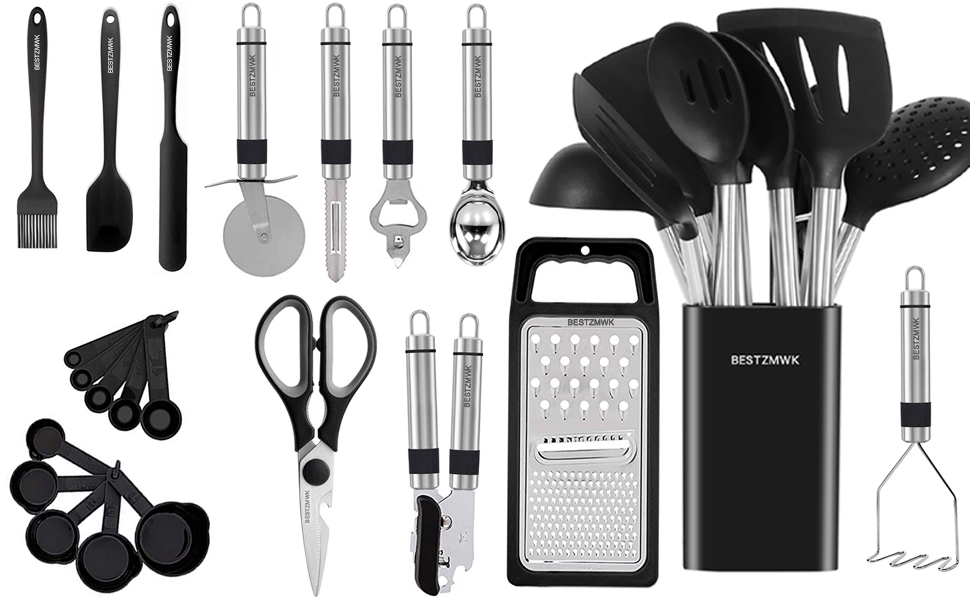 Product information
Package Dimensions
14.68 x 6.5 x 5.31 inches
Item Weight
4.82 pounds
Manufacturer
BESTZMWK
ASIN
B089FBYT3W
Item model number
EP216
Customer Reviews
4.6 out of 5 stars 1,819 ratings
4.6 out of 5 stars
Best Sellers Rank
#1,876 in Kitchen & Dining (See Top 100 in Kitchen & Dining)
#8 in Cooking Utensil Sets
Date First Available
May 30, 2020
Warranty & Support
Product Warranty: For warranty information about this product, please click here
Feedback
Would you like to tell us about a lower price?